Product Labels
Add professional (and informative) stickers to everything you sell. Explore fully customisable design templates and an easy design upload.
See details

100% satisfaction guaranteed
Create a look customers can trust, with all the info they need.
6 size options
3 shape options
2 finish options
Vivid, full-colour printing
Quantities from 24 to 4,800
Now you can show customers the care and detail you put into each of the products you sell – and look like a pro while doing it. Custom product labels work overtime for businesses: Not only do they let you provide product names and ingredients to your customers, they also help you build a cohesive, professional look across everything you sell.
Ready to create? Explore our assortment of fully customisable design options. Once you've found a favourite, make it yours by adding all your custom touches. We'll print your design on white paper sheets with self-stick adhesive backing. Your labels will arrive ready for you to peel off and add to bags, boxes, jars and more.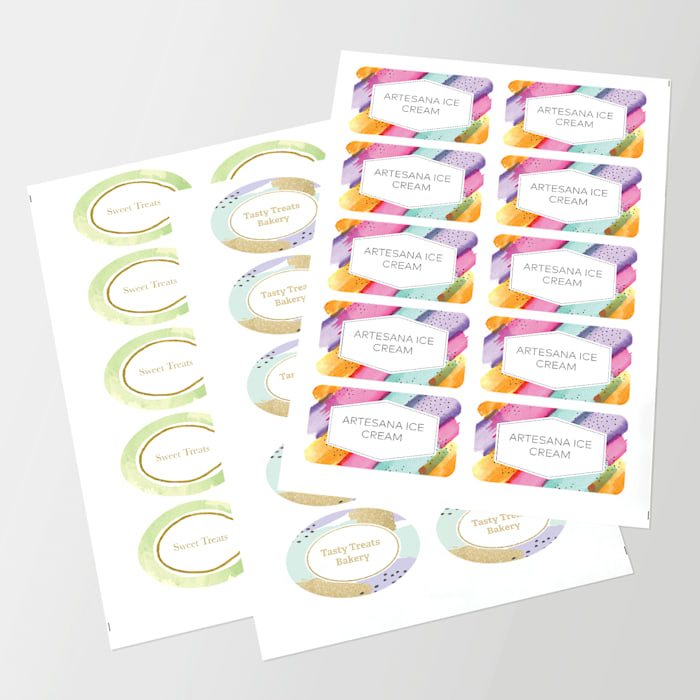 Frequently Asked Questions
All of our product labels are printed on white paper. That doesn't mean you're limited in colour options and designs! Our full-colour printing means that you can print on as much (or as little) of your labels as you'd like.
Your labels will be printed on sheets that are either 291 x 432 mm or 216 x 292 mm.
Yes. If you plan to write on your product labels, we recommend picking the matte option – it's the easiest to write on. If you really like the look of a gloss finish, just make sure you use a permanent marker.
Paper labels are a great, durable option for indoor use and with dry-ingredient products – if your labels won't come in contact with liquid, you'll be in great shape. If you intend to label products that contain (or are exposed to) oil, lubricants or cold temperatures, we recommend choosing a Glossy finish.
You can order a single sheet of custom stickers to try them out before committing to a higher quantity.
Product Specs & Templates